Timber Lodge Steakhouse
Nominate Us for Best of Scene 2019: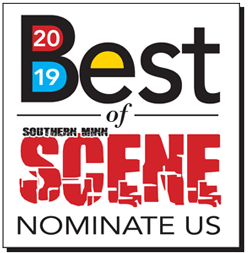 • Best Bar
• Best Bartender
• Best Server
• Best Burger
• Best Dessert menu
• Best Lunch
• Best Place for a Steak
At Timber Lodge Steakhouse in Owatonna, you'll enjoy great food, warm hospitality and excellent service. Our primary goal is to exceed your expectations. We do this by serving you the highest quality ingredients in a warming lodge atmosphere creating a memorable dining experience.
And did you know we offer banquet space to accommodate up to 50 guests? Weddings, groom's dinners, showers, holiday parties, business meetings and more.
On behalf of the entire staff, we sincerely look forward to serving you.